Tyme Master
Founding Member
Joined

Jul 17, 2014
Messages

45,752

Weather and other service disruptions​

FedEx Freight Embargo in Cinnaminson, NJ
May 18, 2021
Due to heavy shipping demands, FedEx Freight will be suspending inbound shipments destined for the Cinnaminson, NJ service center starting Wednesday, May 19th until further notice. This service center serves Philadelphia, PA and parts of Eastern Pennsylvania and Southern New Jersey. Outbound shipments or pickups from this impacted service area will continue uninterrupted.
Download additional details on cities, states and ZIP Codes affected.
Continue to check
FedEx Service Alerts
. For specific shipment status information, please
track
your shipment at fedex.com.
Our suspension of money-back guarantee is ongoing at this time due to the increase in U.S. e-commerce and other effects of the pandemic throughout the world.
What to know about shipment delays​
Record-breaking e-commerce orders, COVID-19 closures and weather events may cause package delays. Find out what you can do to manage your shipments.
SEE COVID-RELATED SERVICE IMPACT INFORMATION
COVID-RELATED UPDATES FOR FEDEX LOGISTICS AIR/OCEAN CARGO
Current situations affecting shipments​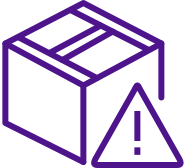 Heavy package
volume
The COVID-19 pandemic has created record-breaking shipment volumes. As more people shop online to avoid crowds in stores, those numbers have grown even more. This has created shipping volumes that are taxing logistics networks nationwide, which may cause delays.
TRACK SHIPMENTS TO STAY INFORMED
UNDERSTAND TRACKING TERMINOLOGY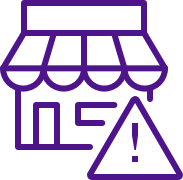 COVID-19 business closures
The pandemic continues to cause businesses around the country to close. If you need to send a shipment to an area that's experiencing closures, contact your recipient before you ship to ensure they're open and able to receive your package.
SEE HOW WE'RE RESPONDING TO COVID-19
Weather and other service disruptions
Seasonal weather events and other disruptions may occur and cause delays for inbound and outbound shipments. Our top priorities are the safety and well-being of our team members and providing the best service to our customers.
VIEW AFFECTED AREAS WITH CURRENT ALERTS
Effective April 6, 2021, money-back guarantee will be reinstated for select FedEx Express services for U.S. domestic and U.S. import/export shipments.
SEE THE LATEST ON MONEY-BACK GUARANTEE
Ways to manage your shipments​
Whether you're a shipper or a recipient, there are actions you can take to have more control over your shipments.
For shipments already in progress
If you're a shipper
For FedEx Express® or FedEx Ground® shipments
For FedEx Freight® shipments
If you're a recipient
For FedEx Express or FedEx Ground shipments
For FedEx Freight shipments
Before shipping
If you're a shipper
If you're a recipient
For more helpful information, see our
Guide for Tracking and Managing Deliveries
.
​
Regulatory news and updates​
We issue a regulatory alert when a new regulatory agency or legal requirement is established that may impact international shipping, or when an existing one changes.
A regulatory update can be issued to communicate any of the following:
A previously published regulatory alert is still in effect.
Deadlines have been extended.
Recently announced requirements have changed.
Review the latest regulatory alerts and news below. The date listed is the date the alert or update is posted. All files are provided as PDFs and separated by service region. You'll need the free Adobe Reader software to open them.
Download Adobe Reader
.
Asia Pacific
---
Canada
---
Europe, the Middle East and Africa
---
Latin America and the Caribbean
---
United States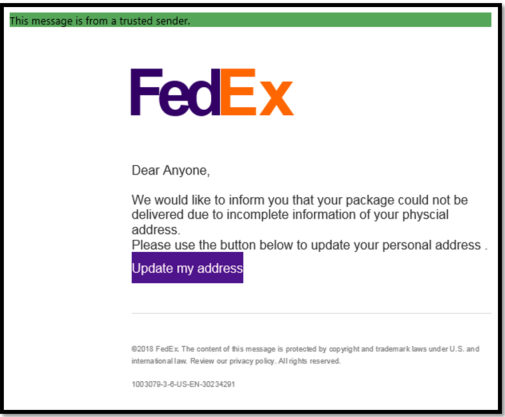 In the fraudulent example above, the email contains a subject line "
Last reminder: FirstName LastName, please respond immediately
." Selecting the button "
Update My Address
" will create a new email message prepopulated with a list of email addresses. This button, when clicked, could potentially execute code in the background which may be malicious. In addition, sending your physical address to any of the listed email addresses could potentially set you up as a target for additional scams.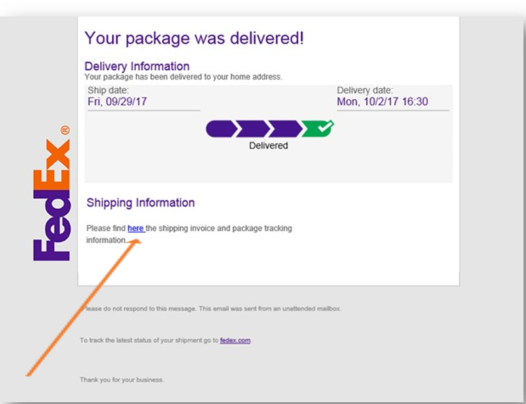 Online fraud alert​
Fraudulent email alert
In the fraudulent email example above, the hyperlink denoted by the underlined "here" can point to one of many thousands of infected URLs originating from all over the globe. Hovering your mouse pointer over the link will reveal what URL you will be sent to if you click it. Just visiting the site can infect your computer. Please do not access any hyperlink that does not point to
www.fedex.com
.
Additional Examples of Fraudulent Emails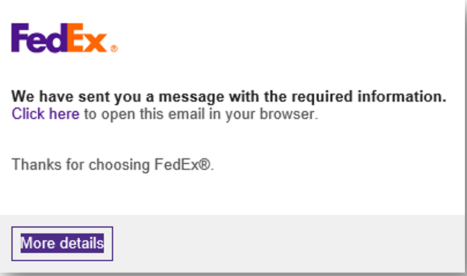 Fraudulent email alert
We have received reports of multiple fraudulent email campaigns disguised as FedEx delivery notices. These malicious spam emails can contain hyperlinks which, when clicked, will connect users to a compromised website that is hosting malware and can infect their computers or mobile devices. In addition, some of these emails may include an attachment, which, if opened, could infect the recipient's computer or mobile device.
These fraudulent emails have appeared with a variety of subject lines, to include the following:
"Last reminder: First Name Last Name, please respond immediately."
"FedEx: Not possible to make delivery"
"FedEx Express Ticket #12345"
"First Name FedEx International #12345"
If you receive a message matching the description above or any email that looks suspicious, do not open the email or click on any hyperlink. Do not open any attachment. Delete the email immediately or forward it to

[email protected]

.
FedEx does not send unsolicited emails to customers requesting information regarding packages, invoices, account numbers, passwords or personal information. Unsolicited emails from an unauthorized third party cannot be prevented by FedEx.
If you are expecting an email from FedEx, confirm the email was sent from an official FedEx email address (
[email protected]

edex.com
) and never access any hyperlink that does not point to
www.fedex.com
.
Visit the
Recognize and Report Fraud
page for more information about fraudulent emails.
---
Protecting yourself
We invite you to go to our
FedEx Trust Center
to learn more about protecting yourself online. By following a few simple tips, you can make your online experience safer and more secure.