Tyme Master
Founding Member
Joined

Jul 17, 2014
Messages

47,595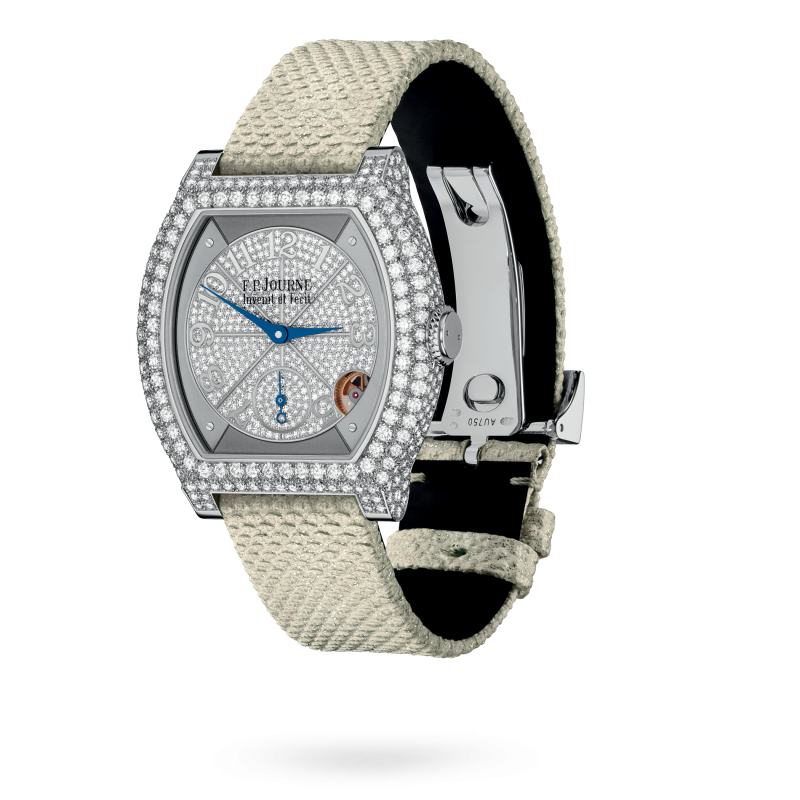 élégante by F.P.Journe
Jul 7, 2021
F.P.Journe Official
The first ladies collection by F.P.Journe.
A revolutionary horological concept.
Always ahead of his time, conciliating tradition, innovation and modern technology, F.P.Journe has developed a revolutionary horological concept for his first ladies collection. It was designed and conceived exclusively for women, with extremely precise technical specifications to provide this watch a long autonomy of 8 to 10 years in daily use and up to 18 years in standby mode.
8 years of development were necessary for this innovative movement that combines a great comfort of use and the performances of an electro-mechanical watch with feminity, elegance and precision. The "élégante" allows the time to be stopped and started again. This is the dream of all watchmakers…
The concept of this electro-mechanical watch features a mechanical motion detector visible on the dial at 4:30. When the "élégante" is motionless, it goes in stand by mode after 35 minutes to save its energy and the hands stop turning. During the standby mode, the microprocessor continues to keep time, while the mechanical parts - gears, rotors and hands - stop moving. When the "élégante" is moved again, the hands sets themselves automatically to the current time, taking the shortest path - either clockwise or counter clockwise.
All the mechanical elements of the "élégante" movement are manufactured by F.P.Journe, based on the brand's own criteria of excellence in state-of-the-art haute horology. The electronic components are made in Switzerland according to exclusive standards, with a microprocessor specifically created for the watch.
The luminescent dial of the "élégante" in the Titanium versions recalls the shimmering surface of white mother-of-pearl. It offers maximum legibility, by day and by night. At night the hands count off the hours, as in a shadow theatre. As a finishing touch to his first ladies collection, F.P.Journe has chosen a flat tortue case, whose design is trademarked®.
As François-Paul Journe says: "I created this watch because for 20 years, women have been asking me to design a watch for them; a watch that was different and comfortable to wear, and that suited their needs and desires. I therefore created this long-lasting watch especially for them. Today the "élégante" features the only electro-mechanical movement conceived and created for the luxury market and offering a true vision of luxury."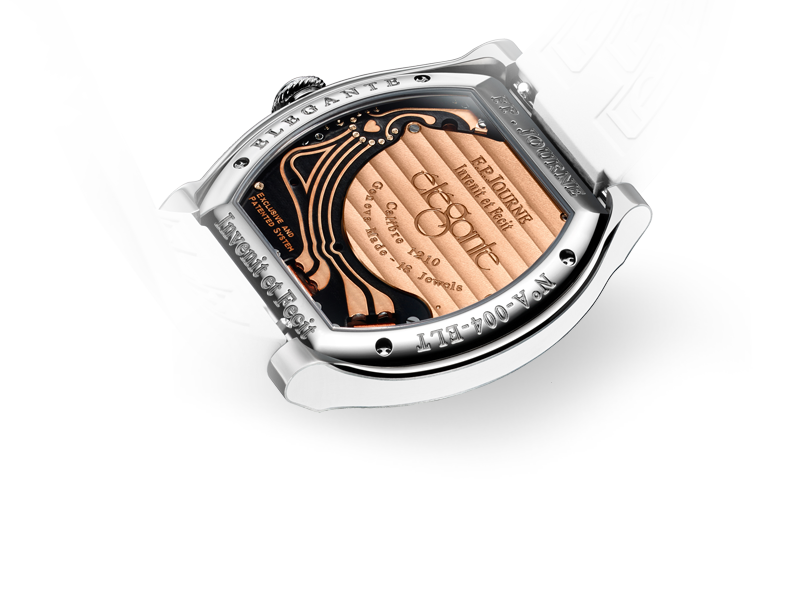 ÉLÉGANTE 40 MM PLATINE OU OR 6N SERTI FULLCalibre 1210https://www.fpjourne.com/collection/collection-elegante/elegante-40-mm-platine-ou-or-6n-serti-fullFP Journehttps://www.fpjourne.com/FP Journe​
Dimensions 40 x 35 mm
Boîtier forme tortue plate® en Platine serti Full de 385 diamants brillants VVS / FG pour 3.53 carats
Cadran intérieur serti de 381 diamants brillants pour 0.60 carat, extérieur à appliques en Acier vissées
Aiguilles Acier bleui
Bracelet serpent Karung blanc argenté
Boucle déployante en Platine sertie de diamants pour 0.95 carat.
Découvrez toutes les pièces exceptionnelles de F.P.Journe à travers les catalogues de collections.
www.fpjourne.com