Sw200 movement not ETA 2824
MAR 24, 2020 — BY
ARIEL ADAMS
https://www.ablogtowatch.com/bulova-...-watch-review/
G
etting a square or rectangular watch done right is a real challenge, which is why elegant angular watches are relatively rare.
Bulova's
Swiss Made collection of timepiece is now known as the "Joseph Bulova collection" (named of course after the brand's eponymous founder). A few years ago the higher-end "Swiss Made" product at Bulova came under the "Accu-Swiss" collection, a name that has recently been deprecated. The reason for this change of name (and the watches are quite different, too) is that Bulova wishes to avoid name confusion with its owned mark, "Accutron." Bulova is about to re-launch Accutron with a new collection, so making sure consumers are not confused is critical at this time.
Joseph Bulova collection watches right now include a small assortment of low- (or limited) production timepieces with Swiss Made ETA mechanical movements and rather classic styles. I will, however, say that the classic styles are curated and transformed for today's tastes. Rather than merely approximate the look and feel of an existing vintage watch, Bulova created entirely modern watches with a vintage-style twist. Right now, that is what Joseph Bulova products seem to be all about. This is a good thing because, while storytelling is hard with such products, user satisfaction is high. These are very wearable, very versatile watches with excellent character and the type of hassle-free ownership experience we expect these days.
Inside the watch is a Swiss Made ETA 2824-2 automatic movement
that isn't especially decorated but is still good-looking with its still crisper-than-many-of-the-competitors' industrial surfaces. The automatic movement can be partially viewed through a bisected circle sapphire crystal window. The movement operates at 4Hz, reportedly with 38 hours of power reserve (a seemingly conservative number). Bulova chose to display the date on the dial. Given Bulova's bread and butter customer, this makes sense. That said, the next time around, it might be interesting to test this concept with a no-date watch, or at least one that does not remove the pleasure of seeing all of the hour markers.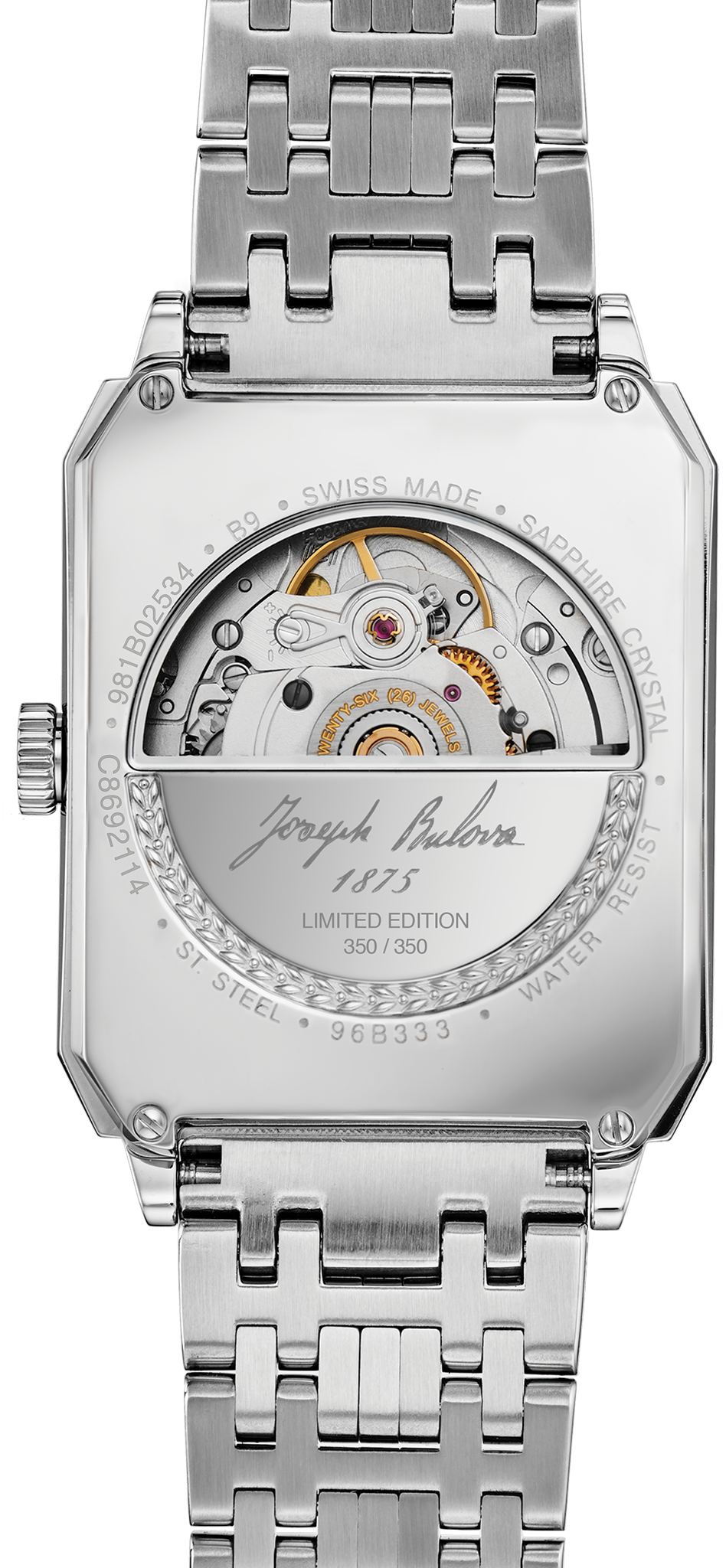 Necessary Data
>Brand
: Bulova
>
Model
: Joseph Bulova Breton (references 96B331 and 96B333 as tested)
>
Price
: $1,050-$1,150 USD, as tested
>
Size
: 32mm-wide, 10.5mm-thick, 46mm lug-to-lug distance.
>
When reviewer would personally wear it
: As a handsome-looking daily wear with a dressier vibe that calls attention to itself.
>
Friend we'd recommend it to first
: Fashion-lover who is willing to explain to others that this is a different kind of Bulova and that it really does represent the history of the watch well.
>
Best characteristic of watch
: Breton watch manages the difficult-to-achieve task of making a novel-looking and attractively proportioned rectangular case watch. Dial is legible, well designed, nicely printed, and, again, handsome. Case is comfortable to wear.
>
Worst characteristic of watch
: Some versions have luminous dials but strangely no luminous hands. Straps and bracelets are good efforts but, in my opinion, need a few more design revisions to really offer a beautiful match for this case shape. I do hope that Bulova keeps investing in the Breton collection.
ETA caliber 2824-2
Brand: ETA
Reference: 2824-2
Movement: Automatic
Display: Analog
Diameter: 25.60
Jewels: 25
Frequency: 28800
Date: Date
Hands: Hours, Minutes, Seconds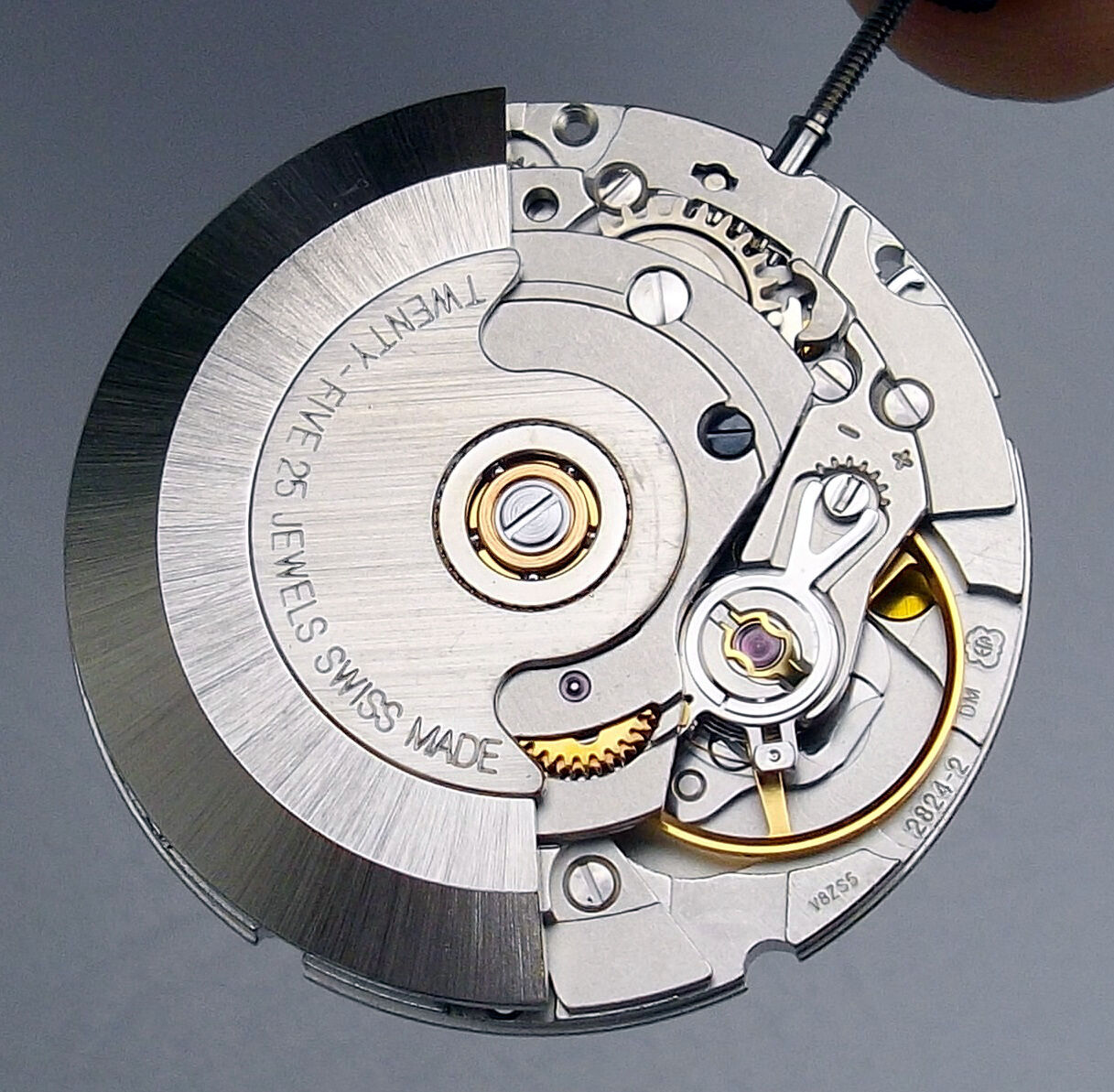 Sellita caliber SW200-1
Brand: Sellita
Reference: SW200-1
Movement: Automatic
Display: Analog
Diameter: 25.60
Jewels: 26
Reserve: 38
Frequency: 28800
Date: Date
Hands: Hours, Minutes, Seconds